Uncover Your Store's Hottest Zones​
Gain actionable insights into the hottest spots of your store and make data-driven decisions for store layout. Perform A/B tests for product placement, optimize your prices and marketing strategies, and more with Ultima Prime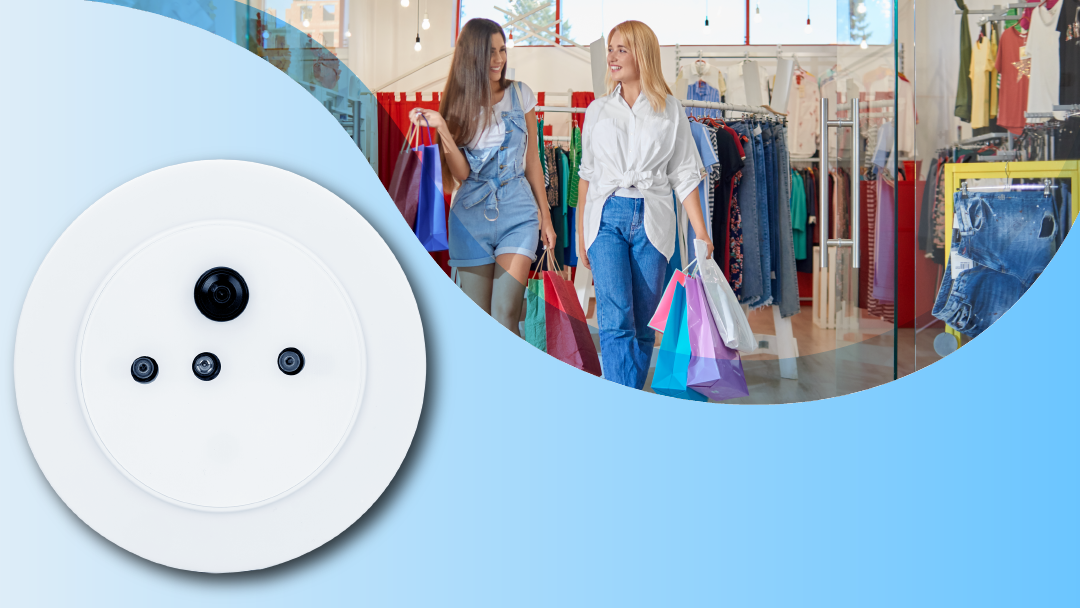 Accurate Heatmaps. Optimized Product Placement.
The heatmap data generated by the Ultima Prime sensor is the projection of the total dwell times of customers on your store layout. The heatmap represents areas within the store that receive the most and least customer traffic.
By analyzing these heatmaps, business owners can gain insights into customer behavior and make data-driven decisions regarding the store layout, product placement, price optimization, and marketing strategies.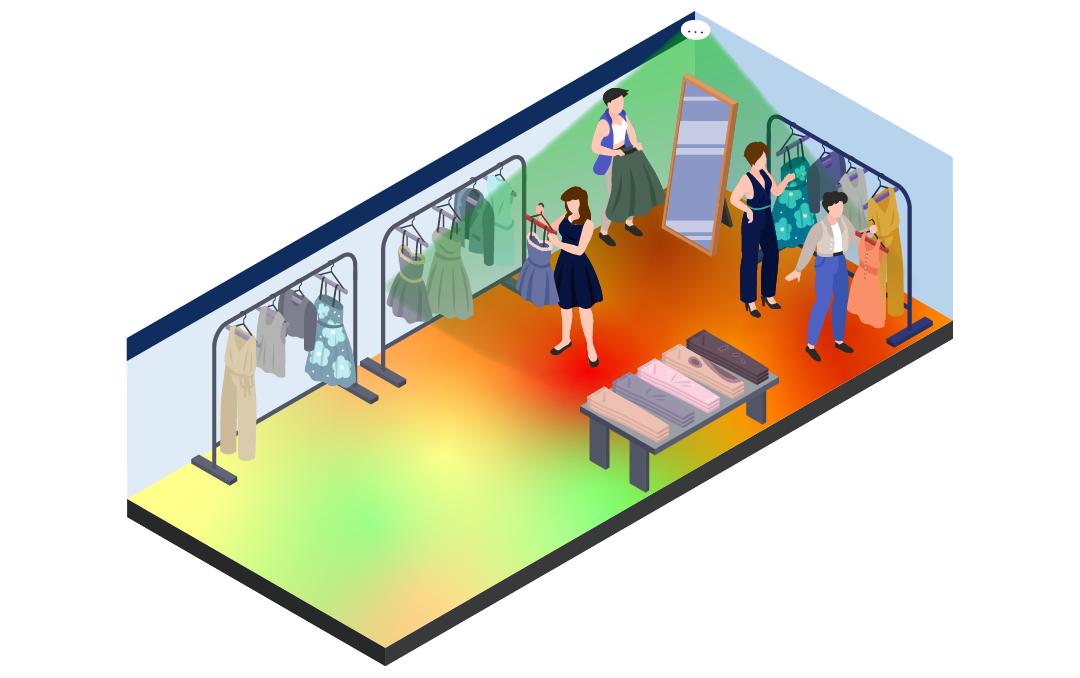 Identify Best Performing Zones.
Zone Analytics allows retailers to improve their marketing activities, in-store operations, and overall customer experience. Through Ultima Prime, you can discover which zones and products attract the most customers and use this information to increase customer engagement, satisfaction, and happiness.
A single Ultima Prime sensor can cover 120 square meters from a height of 4,5 meters. This means fewer sensors are needed to measure store zones, decreasing your hardware costs.  
Zone Analytics Visitor Count
Deep Dive into Zone Footfall Traffic
Assume that your store is a website and each department or zone is a web page. Counting the total traffic on your website is good, but measuring the traffic of each zone separately is even better and more insightful. Ultima Prime lets you count and analyze visitor traffic in each store department, showing you which zones perform best.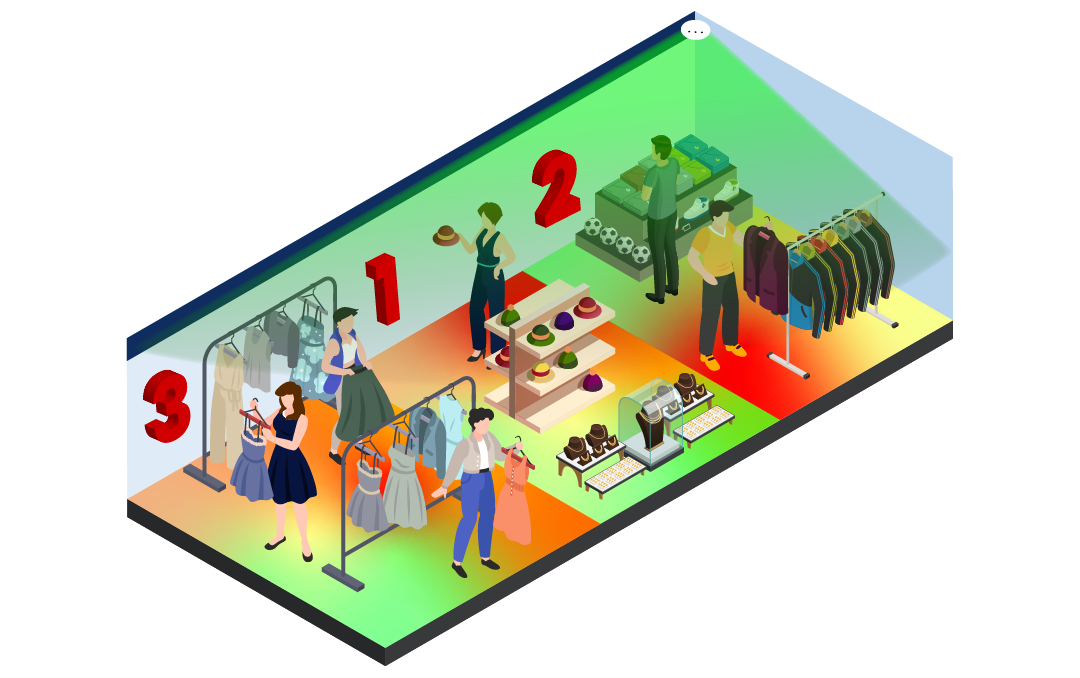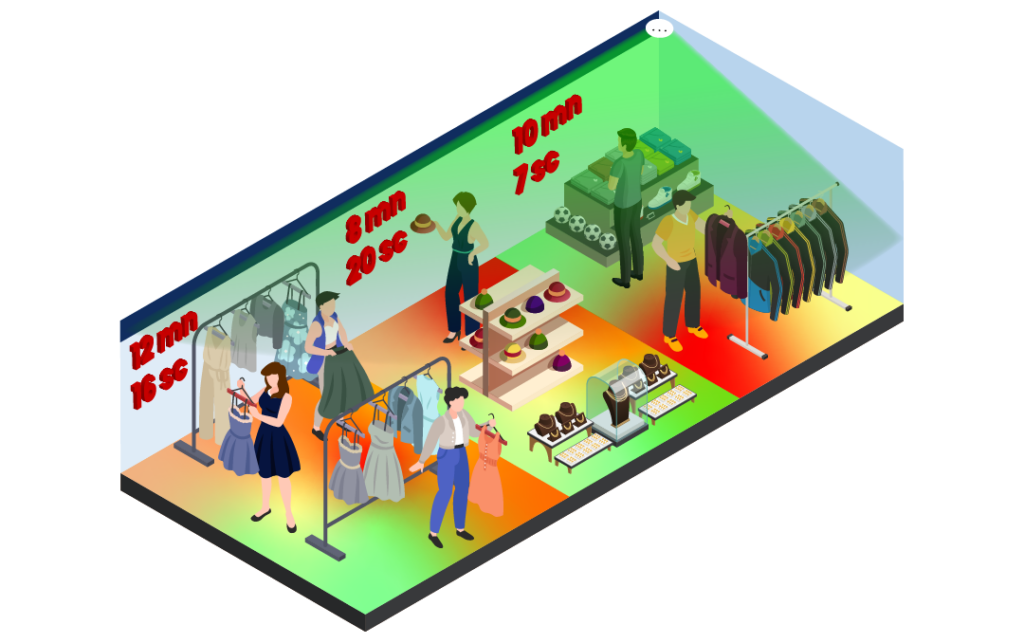 Zone Analytics Dwell Time
Increase Dwell Times, Increase Sales.
Ultima Prime sensors can monitor specific zones, collect data, turn it into meaningful and actionable insights, and show how much time customers spend in specific zones. You can use this data to improve your poorly performing zones and create new data-driven marketing campaigns or discounts. 
Discover Most and Least Popular Paths
Visitor Flow data generated by the Ultima Prime sensor is similar to website behavior flow on Google Analytics. Web users land on a page and then navigate to other pages. Similarly, visitors also navigate through other zones after entering your store. Visitor Flow provides you with the most and the least popular paths in your zones. Understanding and managing visitor flow is important for retailers as it can positively impact customer experience, sales, and store operations.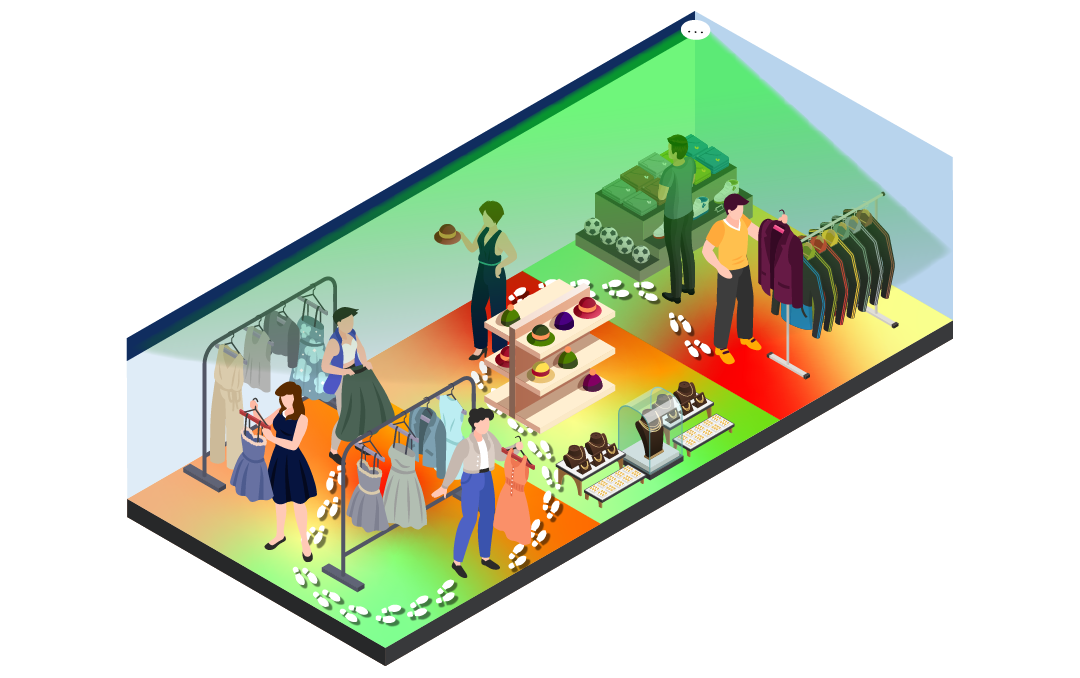 Discover the Power of Zone Analytics
Leverage heatmaps and visitor flow data generated by Ultima Prime's fisheye sensor. Optimize your store layout, product placement, and pricing with accurate visitor data. 
Specifications of Ultima AI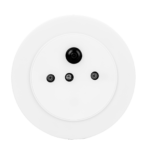 Privacy-Focused, GDPR-Ready Analytics
At V-Count, we prioritize privacy and innovation hand-in-hand. Our solutions harness Active Stereo Vision technology, processing 3D depth data to ensure complete anonymity—our sensors never capture personal details.
Our proprietary AI on CHIP technology is a game-changer, processing data on-device and transmitting only non-identifiable insights, such as " 40 year old male turned right". This edge processing respects privacy by design and adheres to GDPR standards, validated by multiple top-tier European institutions. 
As a global leader in the human behavior analytics market, V-Count stands apart, offering the only solution that's fully GDPR compliant on a global scale. 
Join the ranks of leading global brands that trust our technology to provide deep insights with an unwavering commitment to privacy.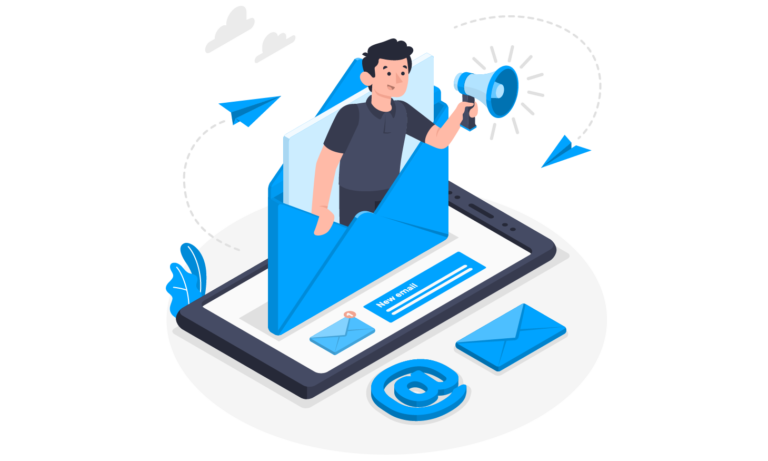 Subscribe to our newsletter
In a rapidly evolving business landscape, staying informed is not just beneficial—it's imperative. Subscribe to ensure you remain at the forefront of visitor analytics industry knowledge.